Elizabeth Renton - Yorkshire's Influence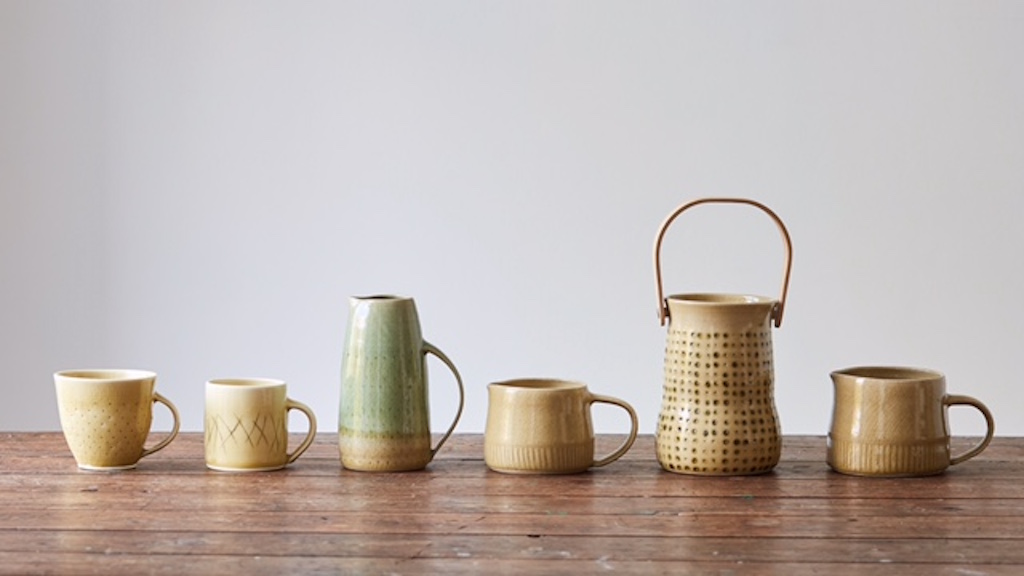 Ceramicist Elizabeth Renton remembers vividly being taken to a museum on a school trip and being told "you can tell how sophisticated a group of people are by the utensils and pottery they use." This clearly had a profound impact on her.
Elizabeth's work has a distinctly industrial flavour to it. She attributes this to having grown up near Doncaster and going to university in Hull, where she was surrounded by the natural beauty and industrial landscape of Yorkshire. As a child she always liked making things and was influenced by the manufacturing she saw all around her: Sheffield steel and cutlery, the Derbyshire and Staffordshire mill towns and the mining and processing of coal, all of which "captivated her imagination".
She says she was lucky to have some inspiring teachers and therefore wanted to do something she felt was worthwhile, so she trained and worked as an Art and Design teacher in London secondary schools for over 20 years.
Although Elizabeth always loved ceramics she decided she wanted to develop her expertise and skills in this area so she went for lessons with several renowned ceramicists. Nicola Tassie taught her to throw on the wheel and she enjoyed it so much she took masterclasses with Takeshi Yasuda and Matthew Blakely, before assisting Lubna Chowdhary whom she has worked with on a number of installations. Realising she would never progress if she only took weekly classes, Elizabeth acquired a small studio, bought her own wheel and hasn't looked back. This was just 4 years ago.
Elizabeth is fascinated by the architecture of how things are put together and the process of creating ceramics. She is drawn to making teapots because they are difficult and require real skill, almost needing to be built and engineered. Unlike more sculptural ceramicists, Elizabeth prefers to make things that are unfussy and functional. The fact of using clay, a material that comes directly from the earth is very appealing to her because she loves "the alchemy" of the combination of earth and fire.
By allowing herself to be process-led it enables Elizabeth to let go of the outcome. For example, she explains, once a piece is made and put into the kiln it can be exciting but potentially disappointing. "Sometimes you have an image in your head of what you think it's going to look like… I have to hold back from that, because sometimes it comes out different and you think 'oh no!' But if you put it on a shelf, you might fall in love with it later because you've let go of the controlling… Which is true of all hand making."
Elizabeth makes tableware from stoneware and porcelain and it's important to her that her work is genuinely functional. "If you're going to spend all this money you should use it, not just look at it." It's no surprise that she admits to enjoying the Japanese and Danish aesthetic with their emphasis on beauty with functionality for daily living. Her own pieces are characterised by their simplicity and usability. The teapots, jugs and cups are quiet, unassuming and gently organic. Their subtlety is deceptive because if you look closer they are all incredibly detailed. She uses incised lines, gentle grooves, raised dots and washes of oxides to create speckles, matt and muted tones with almost imperceptible watermarks which achieve a serene and tranquil quality, whilst making each piece utterly unique.
Elizabeth created her first ceramics collection less than 4 years ago and so is a relative newcomer to the craft scene, but has made a real impact in such a short space of time. She has been showing at MADE London since creating her first collection in 2014 and will be featured again this autumn. She is passionate about refining and developing her technique and hopes that in the future she might be able to collaborate with another maker. She is also keen to explore the idea of a residency in a museum in order to work with others, to absorb different influences and perhaps work from a historical collection.
All Elizabeth's pieces are hand made with extraordinary attention to detail and take considerable time to craft. She feels that those who buy them value and appreciate how special they are and so look after them carefully. Like the young girl who visited the museum, Elizabeth is truly excited by the idea that in over 100 years' time people might one day be looking at a piece she has made and wondering about the society that used it.
Find out more about Elizabeth Renton here.
Images by Craft Edition and courtesy of Elizabeth Renton.